World's Most Advanced LEGO® Sculpture Generator Unveiled by RedwoodLUG Member
Posted 3/8/2022
RedwoodLUG member Patrick Nieman today publicly released a new piece of software, NiemanSculpt, which he describes as one of the most sophisticated LEGO sculpture generators ever created. The program, available for free download for Windows and Mac, uses advanced building techniques as it converts 3D model files into brick sculptures.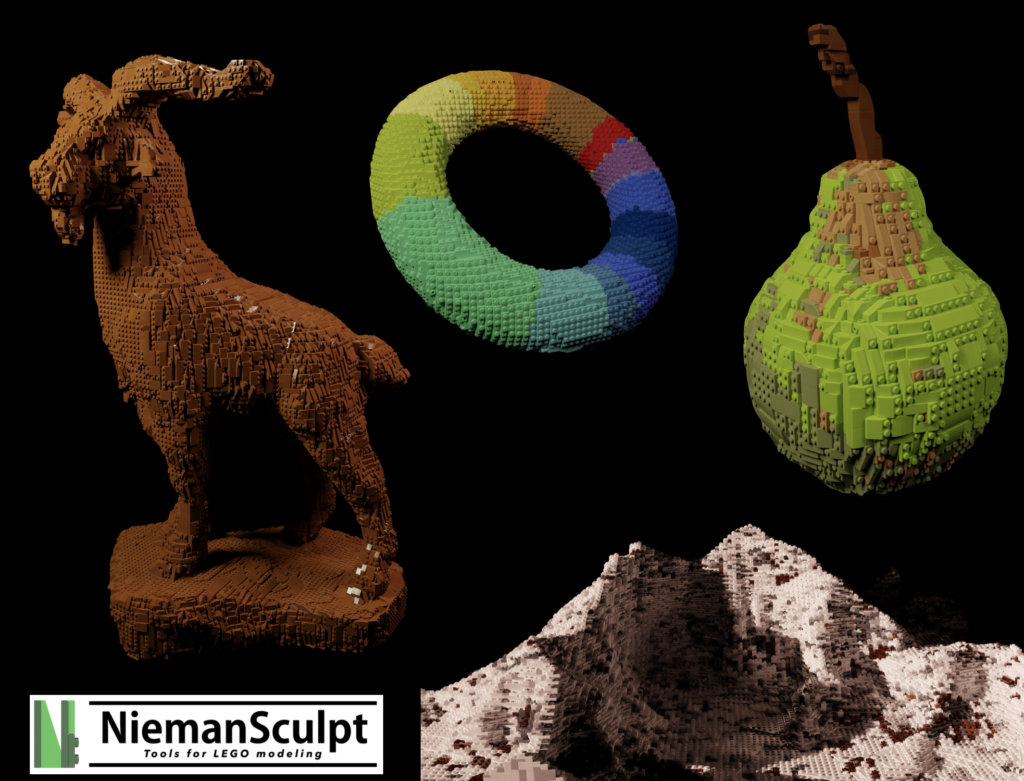 His program introduces full support for SNOT (studs not on top) design, automatically orienting studs in an outward direction and placing tiles and SNOT bricks as appropriate to create collision-free, highly connected models. NiemanSculpt also takes sculpture creation to the next level by supporting 160 different elements in its generation algorithm. Slope bricks, wedge plates, curved slopes, wedge bricks, round bricks and plates, and more join a suite of standard bricks and plates to create beautiful, smooth, highly detailed LEGO representations of 3D objects.
"NiemanSculpt began as a quick experiment to see if I could easily automate the creation of a very basic LEGO® model," Patrick says. "As I became more and more obsessed with the concept of automated design, I realized I had the opportunity to program features that weren't available in any other software out there. Then I got really excited." Patrick explains that some of the biggest challenges of the development process weren't the sculpture-building algorithms themselves, but ensuring that any kind of 3D file in the supported .obj or .stl formats could be analyzed and made into LEGO. "I began this project with very limited programming experience, so even getting the user interface to work was a big challenge as well," he adds.
NiemanSculpt is capable of coloring the sculptures it produces according to images used as skin texture on 3D models, and can also read color information from the materials assigned to objects in these input files. Furthermore, generation is highly customizable. Users have the ability to tailor the parts and colors used in the models, and SNOT mode can be toggled on and off.
Patrick hopes his program will be both fun to play around with and a highly useful tool for serious LEGO builders.